發佈時間:2013-01-20
A 42-year-old Russian man literally ran for his life for seven kilometers in the freezing cold after he accidentally fell off a train in the country's Far East -- wearing only a T-shirt, sweatpants and slippers - READ MORE
http://on.rt.com/yf5pfy
---
http://www.dailymail.co.uk/news/arti...t-T-shirt-shorts-slippers.html
Hardy: Truck driver Valery Malkov, 42, despite falling out of a train into the Siberian wilderness in temperatures of -40C
A man has survived after falling off a moving train in Siberia, forcing him to withstand temperatures of -40C dressed in only shorts, t-shirt and a pair of slippers.
After leaving his compartment to go for a cigarette, Valery Malkov opened a door that should have been locked, hurling the 42-year-old into the hostile Siberian wilderness.
But the hardy truck driver, thought to be from Bratsk in Russia's Irkutsk region, was undeterred by the conditions and began to chase after the train.
After racing along the track for seven kilometres (4.3 miles) he eventually stumbled upon a tiny station.
Mr Malkov said he was just as amazed as everybody else that he had not frozen to death.
He said: 'When I was running I was not thinking
about anything except for to get to the nearest post, station,
anything.
'I don't know myself how I didn't freeze. And no, I never did winter swimming.'
When he arrived at minuscule Richard
Sorge Station in the Amur region, remarkably suffering no frostbite, he
was lucky to find the outpost manned by a stationmaster who quickly
made him a cup of tea.
He said that the man was 'surprised'
when he ran into the station, located 7,200 kilometres east of Moscow,
and thanked the guard for the hot drink.
Tough: After chasing the train for seven kilometres, Mr Malkov came across a tiny rail station which was manned by a stationmaster
Remarkable: A stationmaster was amazed when Mr Malkov turn up at his station in only shorts, t-shirt and slippers

Mr Malkov stayed at the station overnight before the stationmaster stopped another long
distance train the following morning.

He continued on his journey to Neryungri, a coal
mining town in the south of the Sakha Republic.

Mr Malkov added: 'Perhaps
something in the body activates itself when you find yourself in an

emergency situation. And, well, the station was not far, 7km.
'I'm in these places often, and I remembered about the place and the distance.'
Accident: Mr Malkov fell out of a train in the Siberian wilderness after opening a door which should have been locked (file picture)
Stranded: Valery Malkov, 42, fell out of the train and into the hostile Siberian wilderness while travelling through Russia's Amur region
















<! /div>


<! >


<! hr size=4 color=ff0000 >

<! /div>

<! this is comment >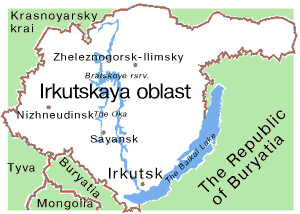 Bratsk in Russia's Irkutsk region
※ 編輯: ott 時間: 2013-01-26 09:38:31
※ 看板:
ott
 文章推薦值: 0 目前人氣: 0 累積人氣: 1751 
r)回覆
e)編輯 d)刪除
M)不收藏
^x)轉錄
同主題:
=)首篇
[)上篇
])下篇